One Membership Delivers Multiple Advantages
Membership gives your family convenient, unrestricted, unlimited access to a physician they know and trust for a set monthly rate. You can text, call, send pictures, and video chat with your doctor from anywhere. Or come in for a same/next day office visit with no wait.
Dedicated Doctor
Care Team Support
Same day/Next day Responses
Same day/Next day In-Person Visits
Free generic prescription drug program
Free mental health program
Free maintenance labs with biomarker analysis
Discounted rates for lab tests
In-office medical procedures (click to see moreclick to see less)
Free EKG tests
Breathing treaments for asthma or bronchitis
Cortisone shots in the knees, shoulders, and other joints
Stitches
Removal of skin tags, sebaceous cysts, and lipomas
Destruction of skin tags and warts with liquid nitrogen
Removal of excess ear wax
Treating ingrown toenails and infections in nailbeds
Draining abscesses
Rapid Strep and Flu testing
Flu and Tetanus vaccines are provided for free (other vaccines are provided at cost).
Skin biopsies for unusual rashes and lesions concerning for skin cancer
Trigger point injections
Body composition testing
Antibiotics for treatment of STDs and STIs
Discounted rates for at-home sleep studies, heart rate monitoring (Holter monitoring), and bone density screening
Discounted imaging
Discounted specialist referrals
Monthly Membership Fee

$125

(18-64)

$150

(65+)

$50

(18-64)

$75

(65+)
One Superior Membership Delivered Two Different Ways:
Exceptional advantages every day throughout the year.
Unlimited Office and Virtual Visits
Dedicated Physician and Care Team
Free and Low-Cost In-office Procedures
Free Generic Prescription Medications
Free Urgent Care Medications
Free Lab Testing (up to 4 times per year*)
Free Online Mental Health Program
*health maintenance labs only
Add children under 18 – $25 per person
Add family members ages 19 – 25: $75 per person
*With one time onboarding fee of $99
*Available in the greater Houston area only
Unlimited Virtual Visits
Dedicated Physician and Care Team
Free Generic Prescription Medications
Free Urgent Care Medications
Free Online Mental Health Program
Discounted Lab Testing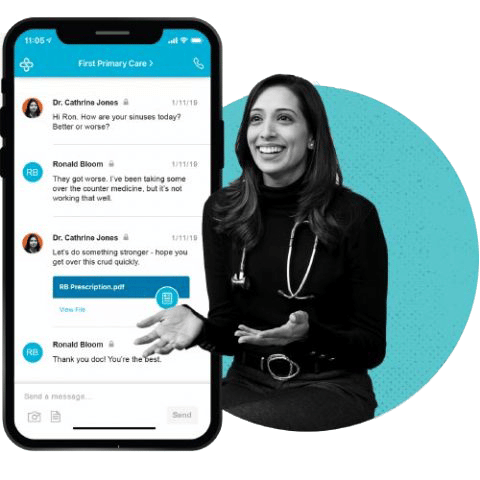 Add children under 18 – $15 per person
Add family members ages 18 – 25: $40 per person
*With one time onboarding fee of $99
*Available in AL, AZ, CO, CT, DE, GA, ID, IL, IA, KS, KY, LA, ME, MD, MI, MN, MS, MT, NE, NV, NH, ND, OH, OK, SD, TN, TX, VA, WA, WV, WI, WY
Disclaimer: There are inherent limitations associated with providing virtual care. Our providers will always do their best to provide treatments in a manner that is safe and effective for the patient. Note that every situation is unique, and it is always up to the professional judgement of the provider as to whether or not a specific treatment or prescription can be provided.
Bonus #1: Comprehensive Health & Wellness Assessment ($798 Value)
Comprehensive Biomarker Health Screening & Lab Panel ($350+ Value)
This 30+ biomarker screening is used to identify any potential health conditions such as inflammation, diabetes, heart disease, high cholesterol, or to indicate an increased risk for these conditions. It allows your physician to create a comprehensive preventative plan that keeps you healthy, happy and living your best life.
45-Minute Personal Health & Wellness Consultation ($250 Value)
We will LISTEN to you and get a clear picture of your health goals and overall health.
Medical History Documentation & Review ($99 Value)
We document your health history and review your medical records, providing us with a clear picture of the past so we can best serve your future needs.
Medication Analysis & Cost Reduction Review ($99 Value)
We'll discuss medications you were taking or currently taking, and make sure you're getting the lowest possible price.
Bonus #2: FREE Generic Prescription Drugs
For medications that you take on a daily basis, get FREE home-retail delivery of over 1000 quality generic medications. Enjoy the convenience of a 90-day supply of your maintenance medications. Plus free urgent care medications you can pick up at any pharmacy. Our medication list contains over 95% of the top prescribed generic medications in the US for conditions such as:
High Cholesterol
Diabetes
Mental Health
Allergy
Thyroid
Asthma
Men's and Women's Health
High Blood Pressure
And more…
Bonus #3: Keeping You Mentally Fit
Mental fitness is a key pillar of health and well-being. Through Starling Mental Fitness, your membership includes a 24/7 confidential digital mental health program that can be access via phone, tablet or computer. The program offers self-guided, unlimited and personalized digital Cognitive Behavioral Therapy support and training to help anyone 16 years or older.
One:
Choose your plan
You get unlimited, unrestricted access to your doctor through in-person visits and the Spruce Health app for text and video access. You'll also unlock reduced wholesale pricing for most lab work, radiology, and select prescription medications.
Two:
Meet your doctor
With FPC you will spend 45 minutes with your doctor on your first visit for a Comprehensive Health and Wellness Assessment. The better we know you, the better we can serve you.
Three:
Complete your assessment
Your membership includes a comprehensive health exam and biomaker lab screening, a complete Medical History Review and Documentation, and FREE generic prescription drugs.